Skip to Content
New Braunfels & Leander Commercial Roofing
Expertise with All Commercial Roofing Types in Central Texas
When you deal with commercial roofing contractors who have a reputation for their professionality, you get peace of mind knowing that your roof will be well-constructed and long-lasting. Commercial roofing presents certain challenges that residential roofing does not. You can rest assured that our roofers at Heartland Roofing and Construction have expertise in all commercial roofing types in Greater South and Central Texas, including metal, modified bitumen, flat and low-slope roofs.
We've worked with many high-quality roofing materials for commercial applications, including tar and gravel, standing seam metal, metal retrofits and shingles and even clay tiles. From new installations to roof repairs, replacements, maintenance, inspections, emergency repairs, and flashing repairs and replacements, we do it all.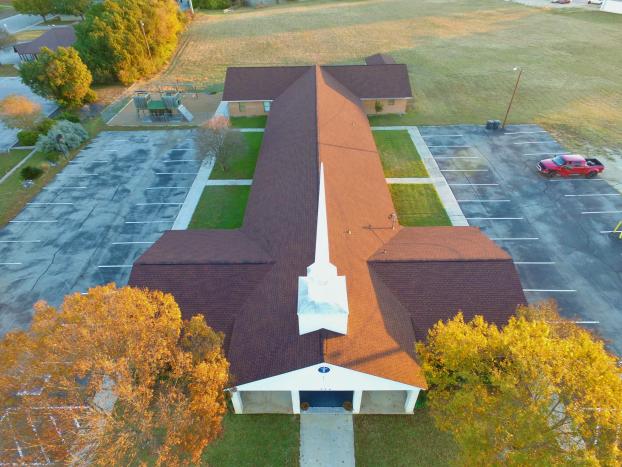 Why Choose Us for Your Commercial Roofing?
At Heartland Roofing and Construction, every customer is a top priority, and it shows in our work. When you count on our crew for results, you won't be disappointed. We have a long list of satisfied clients for a reason, and when you work with us, it won't be long before you see why. We've provided commercial roofing throughout Greater South and Central Texas for condominiums, business offices, retail centers, schools, industrial warehouses and government buildings of all sizes. Here are but a few of the many reasons why you should feel comfortable choosing us for all your commercial roofing considerations:
High-Quality Roofing Materials
We only use the best roofing materials from renowned manufacturers to guarantee the quality of our work.
Extensive Experience
Our crew of roofers are all experienced and well-trained, so you can rest assured your roof will be well-constructed and built to last. We're a fully licensed and insured GAF MasterElite® Factory-Certified Roofer.
Exceptional Customer Service
We maintain open lines of communication with our clients to ensure their satisfaction from start to finish.
Well-Maintained Equipment
We maintain all of our construction tools and equipment to ensure we meet or exceed all industry safety standards.
We Strive to Keep Projects on Time and on Budget
Whether your commercial roofing project is underway or you're still in the planning and development phases, our roofing contractors can help you take the most efficient measures to complete your project on time. We also do everything in our power to stay within budget, which means maintaining clear lines of communication, respectful working relationships and timely progress. Contact us today to find out more about our commercial roofing services in New Braunfels, Leander, Austin and other surrounding areas in Greater South and Central Texas. Leave all your commercial roofing worries to our experts.