Skip to Content
Low Slope & Flat Roofs in New Braunfels & Leander, TX
Your Roofing Experts
At Heartland Roofing & Construction, we prioritize our community and our customers. We have provided essential roofing and construction services to our New Braunfels & Leander, TX, community for many years. Our mission is to provide the highest quality services and workmanship to our neighbors who need it most. To do this, we use only the best materials. With above-grade, premium materials, your roof, or construction project will stay in great condition for many years. Our experts can provide top-quality advice, service, and workmanship.
Two of our most popular services are our flat roofing and low slope roofing options. These options are a great alternative to other steeper roofing options. Flat roofs or low slopes can provide a unique look and style but building and installing a flat roof system isn't a job for an amateur or average roofer. It requires a unique skill set. At Heartland Roofing & Construction, we have the skillset, training, licensing, and insurance to provide you with your ideal roofing solution.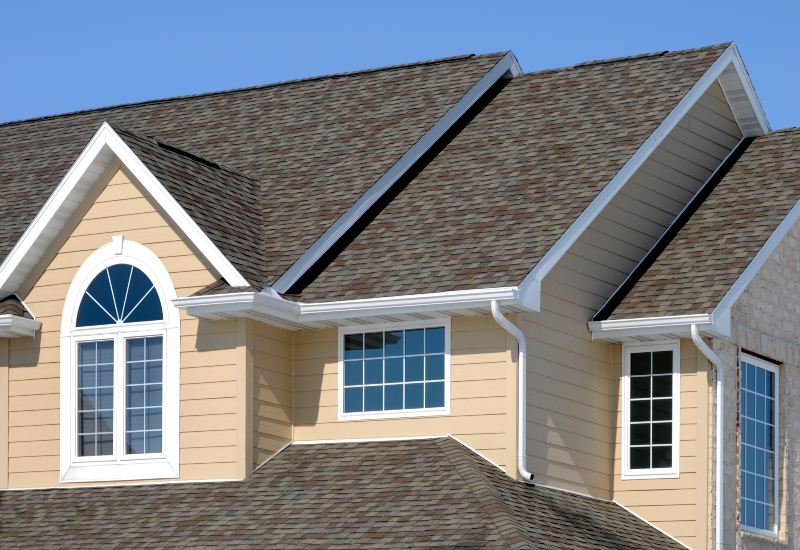 Understanding Flat & Low Slope Roofs
Flat and low slope roofs are roofs that are nearly flat or only have a very low slope. A roof with a slope of less than 3-in-12 is considered a flat roof or a low slope roof. Flat roofs have several benefits, especially here in New Braunfels & Leander, TX. Flat roofs are excellent at keeping the room beneath the roof cool, even on the hottest Texas days. They are also easy to maintain and budget-friendly.
While these roofs are a great option, they come with challenges. Because the roof is flat or low-sloped, it doesn't have gravity to help drain off any moisture that collects on the roof. This can lead to water damage or leaks if improperly installed and maintained. Additionally, rust, algae, bacteria, and more can cause serious roof damage when water collects on the roof. You must hire expert roofing professionals trained in flat roof repairs, installation, and maintenance to remedy these issues. Our Heartland Roofing & Construction team can ensure that your flat roof system stays dry and in great condition.
Our Flat & Low Slope Roofing Services
Our Heartland Roofing & Construction team has a mission to provide you with the roof you're searching for. To accomplish this, we offer a wide variety of flat and low slope roofing services, including repair, installation, maintenance, replacement, and more.
There are three main types of flat roofs. They are:
Modified Bitumen Roofing – This lightweight, flexible option is easy to install. It is low maintenance, can withstand low temperatures, and is environmentally friendly.
Membrane Roofing – This flat roofing option is made of rubber or plastic. It is an easy, inexpensive option and makes it, so leaks are very uncommon.
Built-Up Roofing – This flat roof option has many layers making it extremely damage-resistant. While it isn't as common for residential properties since bitumen roofing and membrane roofing were created, it is still used for some commercial properties. It withstands sun, water, and weather and is cost-effective and easy to maintain.
While these are the three main roofing options we use, we love to help our customers customize a roofing option that will best fit their and their property's needs. We offer low slope metal roofs, among many other roofing materials. Our team will inform you about the many material and design options and help you determine the best fit for you. No matter what roof we build for you, you can trust that it will be expertly done with premium products.
Benefits of Choosing Heartland Roofing & Construction
We are dedicated to providing our clients with the best products, services, and results. We have trained for many years and continue to train to ensure we provide you with the best. When it comes to this unique type of roofing, you need experts who know all the tricks of the trade. Our team has the knowledge and experience you need and deserve. When you choose Heartland Roofing & Construction, you can rely on our commitment to you, our attention to detail, and our incredible craftsmanship. Enjoy the following benefits of working with us:
Approved by HomeAdvisor
Family-owned and operated
Dedicated to safety and your satisfaction
Renowned for offering fair and competitive pricing
Lead-safe certified by the Environmental Protection Agency (EPA)
Fully licensed and insured GAF MasterElite Factory-Certified Roofer
Contact Us
Contact our team for expert services for your flat roof or low-slope roofing needs. We'll provide you with your personalized consultation and quote. In addition to this incredible service, we expertly provide many other roofing and construction services to our community in New Braunfels & Leander, TX. Learn more about our goals, mission, and commitment to you. We can't wait to provide you with your dream roof.