Skip to Content
Roof Storm Damage Repair in Leander & New Braunfels, TX
Storm Damage Roof Repair Services in South & Central Texas
If you live in South or Central Texas, you're probably no stranger to bad storms. Heartland Roofing & Construction offers roof storm damage repair services from Leander to San Antonio. Severe storms can leave your home and roofing system in bad shape, making them vulnerable to leaks and other damages. Our experienced roofers can repair your roof after it has suffered from storm damages. In many cases, we can repair your roof rather than needing to replace it. This will save you time and money so you can get back to your everyday life after the storm has passed. We provide roof repair services for home and business owners, whether your roof has suffered from hail damage, leaks, wind damage, and more. Find out more about our roof storm damage services and get in touch with us to request an appointment.
Hail Damage Repair Services
Hail storms can be devastating for your roof. While it's good that your roof protects you from hail, the bad news is that it takes the brunt of the blow. Many roofing materials can be damaged severely by hail. Hail storms can leave your roof defenseless against future damage, making it critical to have repairs done in a timely manner. In many cases, hail damage is not visible to homeowners because they don't go up on their roofs often. If you live in South or Central Texas and experience a hail storm, it's crucial to have our team inspect your roof for damages. From there, we can make any necessary repairs and ensure your roof is protecting your family or business against future storms.
Professional Roof Leak Repair Specialists
A leaky roof on your house or business can lead to severe damage. The team at Heartland Roofing & Construction specializes in inspecting roofs for leaks. If we do find them, we will repair them and help prevent new leaks from occurring. A roofing leak can harm the structural integrity of a roof. It's critical to look for early signs of roof leaks because the earlier they are caught, the less damage they will cause. If you notice missing shingles or shingles that are split, damaged, or balding, contact our team right away. Even if you don't notice anything out of the ordinary, it's still important to have your roof inspected regularly. We offer fast and affordable roof leak repairs from Leander to San Antonio, TX.
Repairing Roofs Suffering from Wind Damage
When thinking of the damage Texas storms can cause to your roof, don't overlook strong winds. Rain and hail are not the only elements that can cause roof damage. High winds assault roofs by wearing down their materials. Wind strikes the corners and loosened materials of the roof to create and exploit weak points in the structure. Once your roof becomes vulnerable, water and rain can cause damage, including mold, mildew, and wood rot. High winds can also cause debris and tree limbs to damage your roof and cause scuffs and dents. The team at Heartland Roofing & Construction excels in repairing roofs that have suffered from wind damage and storm damage.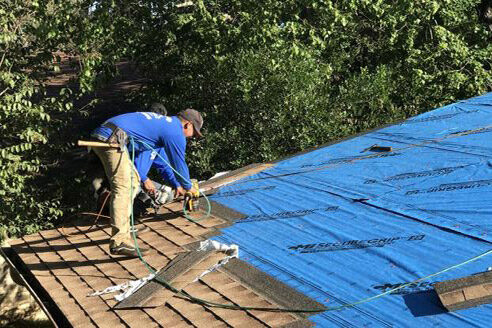 How Dangerous Can Roof Storm Damage Be?
Light rain may not have any impact on your roof, but a heavy storm can cause significant damage. Hail hits hard and can tear roofing materials and leave your roof vulnerable. Debris can be strung across your roof during high winds, causing scratches and other issues. If your roof has suffered any type of damage after a storm, it's critical to have it repaired before the next one comes around. Storm damage roof repair is essential if you want to protect your building. Our team starts with a thorough roof storm damage inspection and then performs any necessary repairs to protect your home or business.
We Work With Your Insurance Company
Dealing with your homeowner's insurance company can be a hassle. Heartland Roofing & Construction works with your insurance company. We provide roofing repairs, roofing inspections, and reports that can assist with your claim documentation. We keep you posted throughout the process, so you know where your roof repair stands.
Contact Our Trusted Roofing Contractors
Our South and Central Texas roofing experts are Master Elite certified roofers and Hearth certified contractors. You can count on our trusted roofing contractors to perform the roof storm damage repair you need. Our work is backed up by a 100% satisfaction guarantee. Contact us today to request an appointment.