Skip to Content
Hire Us to Complete Roof Inspections in New Braunfels & Leander
Help Prevent Costly Repairs with Regular Inspections
Your roof is meant to give your home years of protection from the elements. However, outside factors like storms, harsh sun, and other elements can cause premature degradation of roofing materials. For this reason, it's important to keep a close eye on your roof, looking for any signs of trouble before they have a chance to cause severe problems. Luckily, you don't have to keep this watchful eye alone. Heartland Roofing and Construction can complete annual roof inspections at your New Braunfels, TX  A home or business. We'll complete a thorough examination of all areas of your roof to spot any potential problems and address them right away. Contact us today if you'd like to schedule a roofing inspection at your home.
Inspections for Residential and Commercial Structures
At Heartland Roofing and Construction, we can complete roof inspections for both residential and commercial properties. It doesn't matter if you have a small 1,000 square foot home or a massive 40,000 square foot warehouse, our roofing experts will be able to do a thorough check and determine any potential problems. We'll look for weakened areas, using our expertise and detailed eye to spot any telltale signs that you might have missed. Once we complete our inspection, we'll give you a full report of our findings and suggest the best methods to repair any issues. If for some reason, your roof is ready for a replacement, we'll walk you through the process of choosing the right material for your new roof. We'll take into consideration our climate in Texas as well as your stylistic and design preferences. When we're through, you'll love the improved look of your home or business.
Why is a Roof Inspection Important
Roofing inspections are an important preventative tool for both homeowners and business owners. By having a professional take a look at your roof, you can detect any potential problems early and address them before they have time to cause serious issues. An inspection will also allow you to gauge the remaining life of a roof. This can be especially helpful for individuals looking to buy a property and wanting to know what they're getting into before making a decision. It also allows home and business owners an estimate for when they may need to replace their roof, giving them the time to plan and budget for a roofing replacement. Help protect your home or business and schedule a roofing inspection today!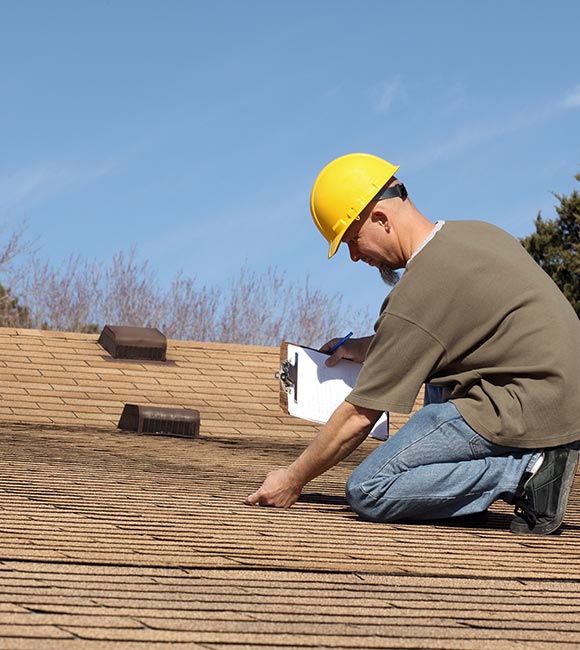 What is a Roof Inspection?
A roof inspection isn't just necessary when you believe you may have a problem with your roof. It acts as a preventative measure to stop roofing issues before they start. Having a licensed professional take a look at your roof will provide insight into any potential problems and will also allow you time to develop a solution before they get worse. During our roofing inspection, we will complete:
A Full Interior Inspection: We'll start our investigation inside your home or business, checking for any signs of moisture or mold growth. Next, we'll check the ventilation and insulation, completing an assessment of your structure's R-value. Without proper ventilation, you could face overheating issues that cause damage to your shingles and, ultimately, your entire roof.
A Full Exterior Inspection: After the internal inspection, we'll move to the exterior of your home or business. We'll get up on the roof to check for any signs of wear and tear, like warped or buckled shingles, improper flashing, any holes, dark spots, mold growth, or signs of rot or rust.
Don't Wait Until It's Too Late
Heartland Roofing and Construction knows that prevention is key. Wouldn't you rather prevent roof leaks instead of repairing them after they happen? Being proactive when it comes to the care of your roof is the best policy. We can complete a roof inspection of your home or business and give you a free estimate for any necessary repairs. Our team has the skills and knowledge needed to identify any problems and fix them. We can even work with those customers who have suffered storm damage, helping to make your insurance claims process go smoother. Don't wait until it's too late, and your roof is leaking in multiple places. Instead, call our team at the first sign of trouble.