Skip to Content
Roof Replacement in New Braunfels & Leander, TX
We Can Replace All Types of Residential Roofs
Heartland Roofing and Construction offers years of experience that you can rely on. Whether your roofing system is metal or asphalt shingle, we are the experts to choose for your roof replacement service needs. We will remove your old roofing material and help you select the right replacement materials for your home. Contact us to learn more about the services we offer, or to schedule your roof replacement service.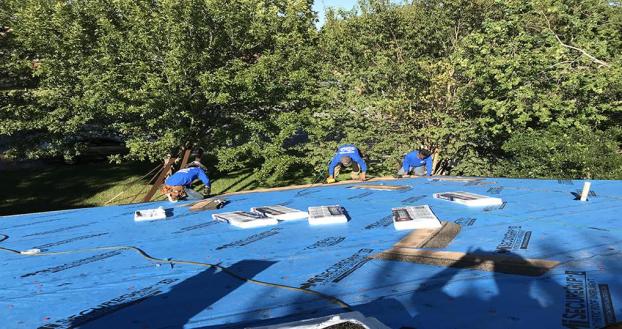 Roof Replacement Services
While many roofs can last anywhere from 15 to 30 years, eventually you will start seeing signs of wear and tear and need to consider replacement. A weakened roof can experience leaks, or even total failure. Heartland Roofing and Construction can remove your old materials and install a fresh roof that will protect your family and belongings from the elements, while also boosting property value and curb appeal.
Roof replacements are a big investment, so you want to hire a company that will provide the right service for your needs. We have a variety of options to fit every style and budget. Whether you like the classic look of asphalt shingles, or want to try metal roofing, we are capable of installing several styles for you. Our experienced team will work with you to select the perfect roofing material.
Call us to discuss our roof replacement services today.
The Right Time to Replace Your Roof
A damaged or worn-out roof can reduce your home's curb appeal and increase your energy bills. If you have noticed your energy bills rising, storm damage, or leaks, you may need to begin considering a replacement. Not all damage is easily noticeable, however, so if you want to ensure the quality of your roofing materials, Heartland Roofing and Construction offers inspections to help you spot any potential problems, and we offer a free estimate for any necessary work.
If you notice that your roof is showing signs of wear, consult our roofing specialists for advice on how to fix the issue. While a repair might be possible, experienced roofers can help you identify when a replacement would ultimately be cheaper than repeated repairs. If your roof is over 15 years old, a replacement might be a better value than a repair. A replaced roofing system might also be something to consider if you are considering putting your home on the market.
High-Quality Roofing Materials
A high-quality roof begins with high-quality materials and high-quality work. At Heartland Roofing and Construction, we offer you all three. We have a wide variety of materials, colors, and textures to choose from. From shingle roofs that are easy to maintain or foam roofs for flat roof replacements, we can help you select the right roof type for you. Our specialists will work with you to ensure that your new roof is tailored to your taste and your budget.
Top Reasons for a Roof Replacement
Are you unsure of what factors to consider when deciding whether or not you need a roof replacement? We can help! Contact us today to discuss your concerns. Here are some common reasons to consider using our roof replacement services.
Many roofs will last anywhere from 15 to 30 years. If your roof is older than 15 years, it might be time to start considering replacing it. Getting ahead of problems is a great way to prevent damage, and our skilled specialists can inspect your roof to help you prevent serious complications.
If you have already begun seeing some of these complications, such as storm damage or water damage and leaks inside of your home, it is definitely time to schedule a replacement or repair. While leaks can be as simple as a few missing or damaged shingles, Heartland Roofing and Construction can help you determine whether the damage warrants a replacement.
You might not see water damage inside your home, but you may notice increased energy bills. A roof in need of repair or replacement is less efficient at keeping the temperature inside your home constant, leading to increased heating and AC usage.
Contact Heartland Roofing and Construction
A new roof will increase your home's curb appeal and value! Whether you want to get the best price for your home on the market, or want to improve the exterior of your home, a new roofing system from Heartland Roofing and Construction will make your home shine. Contact us today to schedule service.