Skip to Content
How Does the Sun Damage Your Roof?
Sun damage to roofs is more than just a cosmetic concern. It can be a severe threat to the lifespan and integrity of your home's entire roofing system. In areas like South and Central Texas, where sunlight is more intense, the potential for damage is even greater. Homeowners often focus on the durability, longevity, and curb appeal of the shingles, forgetting about the thermal shock roofs get from direct sunlight exposure. But it's crucial to understand the roofing material's ability to withstand extreme UV rays.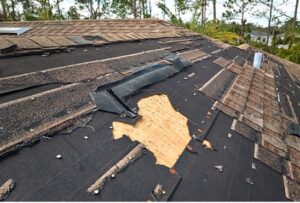 Understanding Sun Damage to Roofs
Sun Damage and Its Effects – Sun damage can affect roofing materials in different ways, leading to deterioration, discoloration, and structural weakness. Materials like asphalt shingles are more prone to cracking, while metal roofs might become discolored.
UV Radiation on Roofs – UV rays can cause significant outer coating damage through bleaching. This is akin to the fading seen when colored clothes are bleached. Metal roofs with protective coatings often seem to withstand these elements better than asphalt shingles. More serious damage comes to the roof coating itself. The sun's rays dry up protective coatings, causing cracks and even fractures, leading to leaks.
Thermal Shock – Darker rooftops suffer from thermal shock, where high heat during the day and subsequent drops in temperature lead to expansion and contraction. Over time, this causes cracks, and leaks, and weakens the structure, especially in metal roofs.
Types of Roofs and Roofing Materials
Different roofing materials respond differently to sun exposure. Understanding these variations can guide proper maintenance and prevention strategies.
Asphalt Shingles – These are budget-friendly and common, but they are quite susceptible to sun damage. Having professional roofers apply protective coatings can add years to the life of your roof.
Metal Roofs – While metal roofs are generally more resilient, these roofs can still suffer from bleaching and thermal shock. Again, proper coating and maintenance are key steps a homeowner can take to extend the life of their metal roof.
Local Conditions Here in Texas
The specific climatic conditions in South and Central Texas make understanding and addressing sun damage of extreme importance. The region's intense sun, coupled with wide temperature fluctuations, can often exacerbate the effects of sun exposure, necessitating specialized restorative care and maintenance.
Recognizing Roof Damage
You should have your roof inspected by a professional roofing expert on a regular basis, but in between inspections, you can look for the following signs of roof damage:
Cracks and curling on the shingles
Missing shingles
Discoloration on the walls and ceilings inside your home
Water leaks
Mold and dry rot in the attic.
Preventive Measures and Solutions
Regular Inspections – Regular professional inspections can identify early signs of sun damage. Heartland Roofing & Construction offers inspections and can develop tailored solutions for your specific problems.
High-Quality Roofing Materials – Investing in the strongest roofing materials on the market can add years before repairs or replacement is called for. In these situations, you'll pay more at the outset, but you'll be rewarded with a longer lifespan for your roof that will save you money in the long run.
Protective Coatings – Protective layers can be applied to old decks and shingles to protect them from sunlight exposure. The application of these special coatings is not a do-it-yourself job but should be undertaken by trained professional roofing experts for the best result.
Recognizing and Action – By recognizing the symptoms and acting promptly, homeowners can give their roofs a fighting chance against damage from extreme sun exposure. At the first signs of problems with your roof, you should reach out to a professional roofing contractor.
Heartland Roofing & Construction's Expertise
Heartland Roofing & Construction, with its vast experience and localized knowledge, stands as a competent partner in addressing your roof's sun-related damage. Offering comprehensive solutions that range from routine inspections to the application of protective coatings, they are committed to protecting your home. Whether it's the selection of the right roofing materials with high UV resistance or regular maintenance to catch and repair minor damage before it becomes a major problem, Heartland Roofing & Construction has the expertise to guide and assist homeowners with any roofing problems that should arise.
Conclusion
Sun exposure damage is real, affecting more than just the appearance of your home. It's a multifaceted threat that can lead to leaks, mold growth, and even structural failure if left unaddressed. By understating the potential threats, recognizing local weather conditions, choosing the right materials, and implementing preventive strategies, homeowners can help to ensure that their roofs remain strong for many years to come.
Beyond these tangible benefits, a well-maintained roof also adds to your home's overall value and your peace of mind. You'll have the confidence that your home is shielded from the elements, preserving both its integrity and its aesthetic appeal.
A proactive approach to sun damage, guided by professional expertise, is not just an investment in your roof. It's an investment in your home's future. By taking the right steps today, you are securing a safe, beautiful, and comfortable living space for yourself and your family tomorrow.
Heartland Roofing & Construction is a family-owned roofing company serving the greater South and Central Texas areas. Our team provides custom roofing, repair, inspection, and service options for residential clients in New Braunfels & Leander Texas. We use only above-grade premium materials from the industry's leading manufacturers. This reflects our commitment to installing the highest quality, longest-lasting roofs available anywhere in the country. Whether you're looking at a roof replacement with asphalt shingles or metal, no one installs roofs better and guarantees their workmanship like our highly trained team members. Let our century of expertise add value and appeal to your property. We proudly offer the "Roofs for Troops" initiative, providing special rebates for US Military veterans.
For more information about our company or our products and services, contact us via our website or give us a call:
Austin Metro – 512-368-7881    New Braunfels – 830-268-4961    San Antonio – 210-866-3280