Skip to Content
Pros and Cons of Different Roofing Materials
When it comes to building or renovating a home, one of the most critical decisions homeowners must make is selecting the right roofing material. This choice not only affects the appearance of the home, but also its durability, energy efficiency, and maintenance requirements. In the regions around New Braunfels and Leander, Texas, Heartland Roofing & Construction has earned a reputation as a trusted source for roofing solutions, guiding homeowners through this essential decision-making process.
Understanding Roofing Material Selection
Selecting the right roofing material is pivotal in determining a home's overall performance and aesthetics. Different materials come with unique advantages and disadvantages, affecting everything from weather resistance to curb appeal. In this article, we'll take a look at a number of different roofing materials, and we'll discuss the pros and cons of each. Our hope is that this guide will help you to select the best material for your new roof.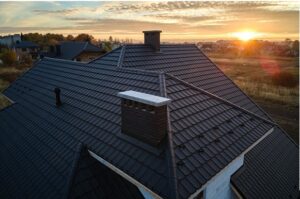 Asphalt Shingles
Pros:
Affordability – Asphalt shingles are generally less expensive than most other roofing materials.
Versatility – Asphalt shingles are available in a wide variety of styles, textures, and colors.
Ease of Installation – This type of roof can be installed by most roofing contractors, as it doesn't require extraordinary installation techniques.
Durability – Asphalt shingles offer good resistance to weathering and with proper maintenance, can last up to 20 or 30 years.
Cons:
Environmental Concerns – Asphalt shingles are not easily recyclable and can contribute to landfill waste.
Heat Absorption – Asphalt shingles tend to absorb heat, potentially increasing cooling costs.
Metal Roofing
Pros:
Longevity – Metal roofs are very durable and can sometimes last as long as 50 years or more.
Energy Efficiency – Metal roofs reflect solar heat and can reduce cooling costs.
Recyclable – Metal roofs are highly sustainable and can easily be recycled.
Resistance – Metal roofs are resistant to fire, wind, and other harsh weather conditions.
Cons:
Cost – Metal roofs are substantially more expensive than asphalt shingles.
Noise – Metal roofs can be noisy during rain or hail storms.
Slate Roofing
Pros:
Appearance – Slate roofs offer a timeless and elegant look.
Durability – These roofs are extremely durable and can last up to 100 years.
Fire Resistance – Slate is a naturally fire-resistant material.
Cons:
Weight – Slate roofs are very heavy and can require substantial reinforcement of the roof's structural components.
Cost – Slate is one of the most expensive roofing materials in use today.
Wood Shingles and Shakes
Pros:
Natural Look – Wooden roofing materials offer a rustic, beautiful appearance.
Insulation Properties – Wood shingles or shakes offer excellent insulation.
Recyclable – As with any wood product, wood roofing shingles and shakes are sustainable and recyclable.
Cons:
Maintenance – Wood requires regular maintenance.
Fire Risk – Wood is the most flammable roofing material and may need treatment for fire resistance.
Lifespan – Wood roofs generally have a shorter life cycle when compared to slate or metal.
Tile Roofing
Pros:
Longevity – Tiles are very durable, and a tile roof can last for decades with regular maintenance.
Aesthetics – Tile roofing, very popular in Spanish and Mediterranean architecture, offers a unique and customizable appearance.
Cons:
Weight – Like slate roofs, a tile roof is very heavy and may require reinforcement of the underlying structure of the roof.
Cost – Tile roofs are more expensive than asphalt shingles.
Fragile – Roofing tiles are subject to breaking or chipping and require routine replacement of individual tiles or sections of tiles.
Concrete Roofing
The use of concrete roofing is a relatively recent innovation, especially appreciated in storm-prone areas for its resilience.
Pros:
Longevity – Concrete tiles are among the most long-lasting materials available.
Cost Efficiency – Concrete tiles are generally more affordable than some other options.
Modern Aesthetic Appeal – Concrete tiles often complement modern home designs.
Cons:
Weight – Again, as with tile roofing or slate shingles, concrete tiles are very heavy and require a strong roofing structure.
Water Absorption – The water absorption of concrete roofing can lead to leaks, which might worsen over time.
Composite Roofing Materials
The creation of composite roofing materials has opened up a world of options for homeowners looking for the appearance of wood or slate without the cost or the weight.
Pros:
Versatility – Designed to mimic other materials like wood or slate.
Lower Maintenance – Composite roofing requires less upkeep compared to natural materials.
Varied Options – Numerous types, each with its own pros and cons.
Cons:
Cost – Composite roofing, though less expensive than slate or tiles, costs more than asphalt shingles.
Potential Weight Issues – Some composite materials might be unexpectedly heavy.
Heartland Roofing & Construction Expertise
When it comes to selecting the right roofing material for your home, Heartland Roofing & Construction stands as a knowledgeable partner in New Braunfels and Leander, Texas. Their expertise in understanding the unique climate and architectural needs of the area ensures that they provide tailored roofing solutions for their clients. With their commitment to using modern roofing materials and offering personalized service, homeowners can feel confident in making an informed choice.
Conclusion
The variety of roofing materials available today offers homeowners the opportunity to find the perfect balance of cost, aesthetics, durability, and environmental impact. Whether it's the affordability of asphalt shingles, the longevity of metal roofing, or the classic elegance of slate, each material comes with its own advantages and disadvantages.
Heartland Roofing & Construction is a family-owned roofing company serving the greater South and Central Texas areas. Our team provides custom roofing, repair, inspection, and service options for residential clients in New Braunfels & Leander Texas. We use only above-grade premium materials from the industry's leading manufacturers. This reflects our commitment to installing the highest quality, longest-lasting roofs available anywhere in the country. Whether you're looking at a roof replacement with asphalt shingles or metal, no one installs roofs better and guarantees their workmanship like our highly trained team members. Let our century of expertise add value and appeal to your property. We proudly offer the "Roofs for Troops" initiative, providing special rebates for US Military veterans.
For more information about our company or our products and services, contact us via our website or give us a call:
 Austin Metro – 512-368-7881    New Braunfels – 830-268-4961    San Antonio – 210-866-3280