Skip to Content
How to Avoid Roofing Scams After a Hailstorm
In Texas, where hailstorms are all too common, the need for roof repairs becomes a frequent concern for homeowners. A hailstorm's aftermath is not just about the physical damage though; it often opens the door to something more insidious: roofing scams. These scams prey on the vulnerable and the urgent need for repairs, turning a natural disaster's aftermath into a man-made nightmare for many homeowners.
Unfortunately, Texas ranks as the top in the nation for hail damage claims, and it also ranks disconcertingly high for roofing scams. This unsavory situation arises because opportunistic individuals pose as legitimate roofing companies, either intending to never complete any work or to complete subpar work that ends up costing homeowners even more money. The treacherous landscape of roofing repairs is fraught with potential pitfalls and hazards for the unwary homeowner.
In this article, we will attempt to guide you, the homeowner who may be facing the problem of a hail-damaged roof. We'll take an in-depth look into the world of roofing scams, providing you with insights into how these scams work, how to spot them, and how to protect yourself. It's not just about fixing a roof, it's about safeguarding your home, your money, and your peace of mind.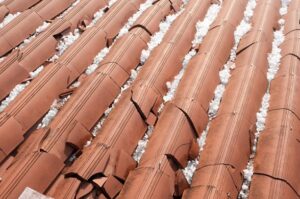 How Does a Standard Roofing Scam Work?
A standard roofing scam usually begins with an individual contacting a homeowner whose roof may or may not have been damaged during a recent storm. The fraudulent person will claim to represent a roofing company and pressure you to sign a contract on the spot or to pay for roof repair services that may never be completed.
These scammers might offer incredibly low prices, a "once in a lifetime deal", or even offer to pay your insurance deductible for you. (By the way, this practice is illegal under Texas law). Some will offer to perform a roof inspection immediately, intentionally causing further damage to inflate your insurance claim. In many cases, these people take your money and run, and if they do come back, they may perform substandard work that could cost you more in the end.
Red Flags to Look For
No Physical Business Location – Scammers often don't have an actual business location, which can be a red flag.
Lack of Licensing and Insurance – Verify that the contractor has the necessary licenses and insurance to operate in Texas.
Inconsistent Branding – Watch for inconsistencies in branding, such as mismatched logos or business names on vehicles, clothing, or documents.
Demanding Full Payment Upfront – Reputable roofing companies usually require a deposit, but never full payment before a job is begun.
7 Tips for Avoiding Roof Repair Scams
You may think it's easy to spot a scammer, but many end up being swindled. Here are seven tips to help you avoid post-hailstorm scammers:
Use Phone Numbers and License Plates as a Guide
Check for out-of-town phone numbers or out-of-state license plates. Many scammers travel to Texas specifically to take advantage of homeowners. If the area code is unfamiliar, investigate further.
Check for Longevity
Investigate the business's history. If you can't find any records or a professional website, chances are it's a fraudulent company created to scam people.
Coordinate with Your Insurance Company
Your insurance company can help to verify a company's legitimacy and should be involved in the repair process after a storm anyway.
Ask for References
Legitimate companies will have no issue providing references or displaying online reviews. If a company refuses or lacks references, it's a warning sign.
Get Multiple Estimates
Compare estimates from different companies. If one quote is significantly lower than the others, it may be too good to be true.
Work Only with a Licensed and Insured Contractor
A licensed and insured company will have bonded workers, so as to protect you from any claims if they're injured while on your property. Always demand license and insurance information.
Pay with a Check or Credit Card
Scammers will often request cash payments, but paying by check or by credit card offers more protection against unscrupulous actors.
Additional Precautions
Read Reviews – Look for online reviews and ask neighbors about their experiences.
Signed Contract – Always get a signed contract before work begins or money is exchanged.
Trusted Companies – Contact a company you trust when you suspect hail damage.
Conclusion
The aftermath of a hailstorm is a trying time for any homeowner. The urgency to repair the damage and restore the safety of your home can often lead to hasty and unwise decisions, making you susceptible to roofing scams. These scams are not just a Texas problem; they are a sinister underbelly of a legitimate industry that seeks to take advantage of the vulnerable. Remember, choosing the right roofing company isn't just about fixing a damaged roof. It's about entrusting someone with the safety and integrity of your home. It's a decision that demands careful consideration, research, and due diligence.
Heartland Roofing & Construction is a family-owned roofing company serving the greater South and Central Texas areas. Our team provides custom roofing, repair, inspection, and service options for residential clients in New Braunfels & Leander Texas. We use only above-grade premium materials from the industry's leading manufacturers. This reflects our commitment to installing the highest quality, longest-lasting roofs available anywhere in the country. Whether you're looking at a roof replacement with asphalt shingles or metal, no one installs roofs better and guarantees their workmanship like our highly trained team members. Let our century of expertise add value and appeal to your property. We proudly offer the "Roofs for Troops" initiative, providing special rebates for US Military veterans.
For more information about our company or our products and services, contact us via our website or give us a call:
Austin Metro – 512-368-7881    New Braunfels – 830-268-4961    San Antonio – 210-866-3280